The Architects' Archives at the Institute of Architecture Documentation collect, prepare and make available architectural design documentation by outstanding architects and the creators of post-war Katowice and cities within the Silesian Voivodeship. These architects include Henryk Buszko, Aleksander Franta, Jerzy Gottfried, Jurand Jarecki, Wiktor Lipowczan, Edward Kisiel, Tadeusz Pfüzner, Jerzy Witeczek, Marian Zawiła and others.
The collected, digitised and constantly expanded collection includes design documentation (drawings, notes, sketches), technical documentation (studies and technical descriptions) and iconographic documentation (photographs, slides, films) relating to the architecture and urban planning of Upper Silesia in the second half of the 20th century.
A separate collection within the Architects' Archives is an assemblage of biographical materials pertaining to particular architects, i.e. notes, certificates, diplomas, awards, favourite books, discs, mementoes and private records relating to their work and lives. The materials are a sociological testimony of social life and the architectural environment in Poland in the second half of the 20th century. They reveal the profiles of the architects, their biographies and personalities that are as fascinating as their architectural works.
A visit to the partially accessible PPBO Studio occupied by architects Henryk Buszko and Aleksander Franta will introduce the contemporary visitor – pupils, students and future students of architecture – to the workshop and work atmosphere of previous generations. A mighty Kulman drawing board on a concrete shaft, a succession of other draughtsman's boards, an illuminated table for copying projects and original requisites from the '60s and '70s including Rapidograph technical pens, T-squares, slide rules, tracing paper etc. You are almost immediately taken back to the past and, architecturally speaking, also to a very creative time of the second half of the 20th century.
By inviting you to make use of the resources of the Architects' Archives at the IADSL, we encourage you to work together with us by donating architectural documentation and exhibits, which will both enrich the Institute of Architecture Documentation's collections, and also save them – and their creators – from oblivion.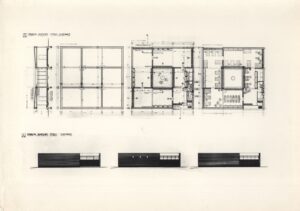 General Construction Design Studio Building (PPBO)
Designers: Henryk Buszko and Aleksander Franta
Collections of the Institute of Architecture Documentation at the Silesian Library